If the recent pandemic has taught us anything about business, it's that owning a commercial cleaning business offers a tremendous amount of opportunity. As an essential business, your janitorial business can thrive when other business industries are still shut down or have reduced operations. Despite an initial downturn in business when customers closed their doors or suspended accounts at the beginning of the pandemic, business for Jani-King franchise owners is back and it's better than ever.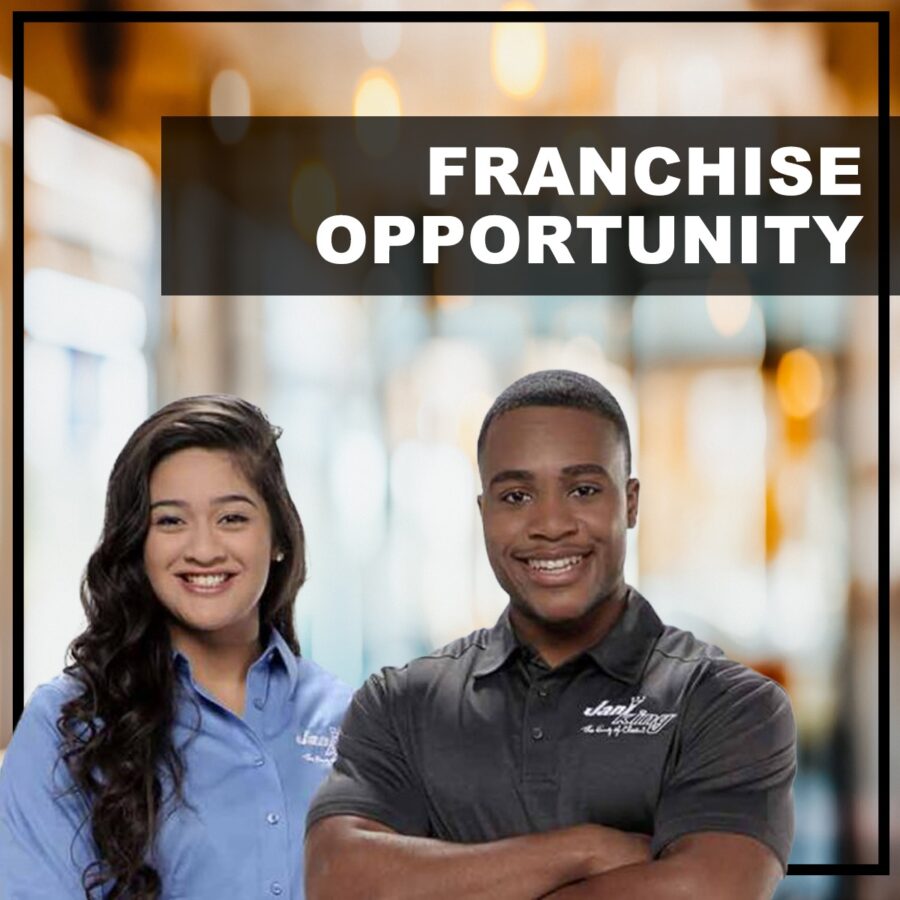 Your business is better because customers now have a much deeper appreciation for the commercial cleaning industry. Customers acknowledge the critical role commercial cleaners play in the health of their facility and ultimately the health of their employees, customers, and guests. Customers are willing to pay for professional service because less experienced companies can be ineffective in the fight against Covid-19. Your business is better because cleaning and disinfecting is a top priority for facilities to open safely and remain open long into the future.
With the commercial cleaning industry expected to thrive going forward, Jani-King's franchise owners can also be confident in their future because their business is essential. Not only that, but new opportunities for providing ongoing disinfecting services are here to stay.
Cleaning and disinfecting go hand-in-hand. In fact, for disinfecting to be effective, the surface must first be cleaned. Proper, thorough cleaning is the first step in any disinfecting procedure.
Additionally, having a regular cleaning schedule is the best way to maintain disinfection levels. Technology such as ATP monitors, which measure the amount of organisms on a surface, have proven to be an effective tool for Jani-King to provide customers with proof that regular cleaning and disinfecting with EPA registered chemicals is effective for eliminating the coronavirus on a surface. Jani-King also integrates the best technology such as electrostatic sprayers into its disinfecting processes. Electrostatic sprayers positively charge chemicals as they released from the sprayer, allowing the particles to encompass all sides of the surface being sprayed. This makes for a fast and effective spraying application, helping to improve disinfecting service times and results.
Another key benefit of being a Jani-King franchise owner is the commitment of the company to support its franchisees. When the pandemic created an immediate need for disinfecting services, Jani-King ran national television commercials to promote professional, essential disinfecting services and establish the brand as the expert in the industry. Jani-King's corporate and regional office teams also went to work training franchisees, securing equipment and chemicals, and marketing disinfecting services to new and existing customers.
It's this type of leadership that drives new business to franchisees and establishes new, permanent paths of revenue. It's this type of organization that identifies opportunities and fights for its franchisees' businesses.
In addition, Jani-King' partnerships with leading chemical and equipment manufactures made it possible for franchisees in the field to have immediate access to electrostatic sprayers, battery sprayers, pump sprayers, chemicals, and personal protective equipment at a time when global supply chains were completely disrupted.
Jani-King was able to do this because the company has been in business for more than a half century and has more support offices around the world than any other commercial cleaning franchisor. From North America to Europe to Australasia, Jani-King's vendor relationships and global footprint sets the company apart from other commercial cleaning companies.
As a Jani-King franchisee, you are a part of this all. You can use these tools, information, and experiences to sign new customers and grow your business. You have the support of a local office that is staffed with industry experts including operations and sales professionals that help grow your business. There is no better support team and no better brand to associate yourself with than Jani-King.
There is no better time than right now to be a Jani-King franchise owner. As we continue to move forward, there is great optimism for our industry. We see the opportunities in front of us and we have already established paths to help build better businesses for our franchisees. This is a unique, exciting time to be a Jani-King franchise owner and we are excited to lead the way.