How to Start a Cleaning Business or Janitorial Service with Jani-King
There are few things more rewarding than running your own business. Being the business owner puts you in charge and creates opportunities that can't be matched holding down a traditional job. Imagine having the freedom to manage your own time, to utilize your skills and to benefit from your hard work to secure your financial future.  That's the power of business ownership. Now it's just a matter of finding the best business model for you.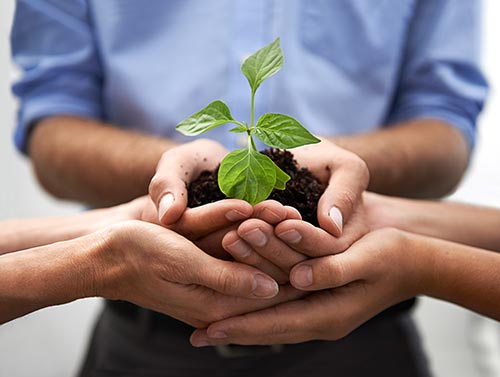 Starting a Business By Yourself or With Expert Support
When considering what type of business to start, rule number one is to research the market and make sure there's a demand for your product or service.  One way to research potential opportunities is to take a look at the franchise industry and identify which companies have systems that are steady and scalable, not just a cleaning job. Also, consider a business that has a track-record of sustained success.  Trendy new businesses can be just that; trendy.  Trends, fads and hot opportunities can cool quickly, so choose wisely when investing in any business.
A franchise opportunity that has proven its long-term success is commercial cleaning.  Commercial buildings such as offices, hotels, hospitals, stadiums, restaurants, car dealerships, movie theaters and the list goes on, need to be cleaned on a regular basis.  We're talking about cleaning services that are needed day after day, month after month, year after year.  That's certainly an opportunity for steady, scalable revenue for your new cleaning company.
How do you start a commercial cleaning business?  If you want to know how to start a franchise, check out the following seven steps to owning your own business with the Jani-King franchise system.
STEP 1: CONTACT
Contact your local Jani-King office, or fill out the form to the right and we will contact you. Please provide specific notes to let us know the best way to reach you (phone, email, etc.) and the time(s) that work best (daytime, evening, weekends).  We will be sure to contact you when it is convenient for you.
STEP 2: SCHEDULE
Schedule & attend a commercial cleaning franchise disclosure presentation. By law, we must present you with a Franchise Disclosure Document before you would be eligible to purchase a franchise.  You may not buy a franchise the same day you are disclosed (in most states the earliest you can purchase a franchise is 14 days after your disclosure) so there is no pressure at the disclosure presentation.  This is an information sharing session where the program will be presented and you can ask questions. We want to make sure you have a thorough understanding of the Jani-King franchise opportunity so that you can determine it this is the right investment for you.
STEP 3: REGISTER
Register a new small business with the state.  Before being able to purchase a franchise, you will need to create a corporation or limited partnership (LLC).  If you know you are going to be going into business, this can be done locally in your state by yourself or with the assistance of your legal representative.
STEP 4: SIGN
Sign franchise agreement.  Once all the other requirements have been met (FDD disclosure, mandatory waiting period, creation of legal entity, etc.) you will be eligible to sign a Jani-King franchise agreement and become the newest licensed franchisee authorized to attend specialized training to operate your franchise in the designated regional territory you have selected.
STEP 5: TRAINING
Complete training.  Initial training will prepare you how to clean properly (restrooms, offices, carpeted areas, tile & other hard surface floors, etc.) and utilize the most up-to-date tools and equipment for peak performance and efficiency.  You will also learn how to perform periodic services like carpet cleaning, floor refinishing, window washing, etc.).  In addition, time is spent training you how to interact with customers to provide them the best customer service, perform inspections of your cleaned facilities, calling and documenting calls to customers, best practices on how to run your cleaning business, marketing for new accounts, and much more.
STEP 6: TOOLS
Get cleaning supplies and equipment.  Depending on the size of franchise you purchase, there will be some start-up supplies and equipment that you will need to have on hand before cleaning accounts can be assigned to you.  There is no obligation to purchase these items from Jani-King.  The minimum items needed are listed in detail on the attachments included in your franchise disclosure document.
STEP 7: START
Open your franchise and start servicing accounts.  Once you have successfully completed initial training and acquired the necessary tools and supplies, you will be eligible to start servicing accounts in the regional territory.  All new franchisees receive a designated $-Amount of monthly business to service from the local Jani-King region (Initial Business).  You may also market and sell new account according to the terms in your franchise agreement.
WHY JANI-KING?
While there are many commercial cleaning franchise companies to choose from, they're not all the same. Take Jani-King for instance.  This global company been in business since 1969 and has continued to establish themselves as the leader with more than 120 regional support offices in 10 countries.  What does that mean to you as a local unit franchise owner?  Experience: Jani-King continues to be at the top because its unit franchisees have been cleaning buildings for decades and the company knows how to build its brand, sign new customers and deliver business systems that help its franchisees grow. Our business model has proven to be extremely successful.
Consider this; Jani-King has teams of experts that know how to clean hotels and hospitals and they pass that knowledge on to their franchisees. When Jani-King tackled the stadium cleaning market, they built partnerships with professional sports teams and leagues. Currently Jani-King has more than 40 professional partnerships and their franchisees clean stadiums, arenas, ballparks and college athletic facilities.  It is experience and reputation building like this that sets Jani-King apart from other commercial cleaning franchise companies.
Is the commercial cleaning industry here to stay? The U.S. Department of Labor says so as they project a 6% growth through 2024.  Just take a look around at all of the new construction and existing commercial buildings in your area.  Regular commercial cleaning services are in high-demand. This is an industry with massive potential and you now have the next steps to start your own commercial cleaning business journey today.
With this information you should now know how starting a business with Jani-King might be one of the best decisions of your life. Please contact us to take the next step of owning a franchise business.