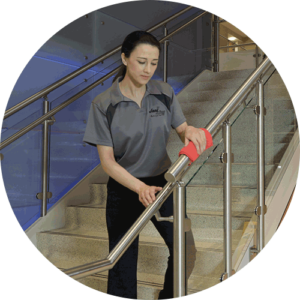 Jani-King's franchisees are commercial cleaning service companies, in the business since 1969 and providing janitorial services to Portland area businesses since 1994, which has dramatically changed the commercial cleaning and maintenance industry.
Each Jani-King Authorized Franchisee has successfully completed an extensive training program and, as a member of our team, has the procedures, personnel, equipment, insurance, bonding and support necessary to become an integral part of your maintenance program.  Our franchisees' concern and dedication to your building, cannot be equaled.
By choosing Jani-King of Portland franchisees as the suppliers of your janitorial services, you will experience the following advantages:
A partnership with the World's leading Commercial Cleaning Franchise company, with an exemplary track record and specific and relevant experience in Portland.
Services by a company that is flexible in meeting the specific needs of your tenants, staff and facilities, but uncompromising when it comes to high standards and consistency of the services we deliver.
Access to the Jani-King of Portland regional office which is staffed with the most qualified technical and administrative support available.
Minimization of health and safety risks relevant to cleaning your facility through systematic and scientific control of all risk factors.
It's all of the efforts behind the scenes that prepare you for success. Whether you are executing a winning play or delivering a final presentation to a customer, everything that takes place before that moment contributes to results. Your Jani-King of Portland franchisee understands this and goes to great lengths to ensure that your facility is clean for every sales meeting, every walk-through and every home run celebration. Jani-King franchisees provide janitorial services to clients in a variety of industries including:
Office and Building Cleaning
Jani-King of Portland franchisees have qualifications to provide cleaning for "LEED Certified" Buildings and meets Green Building Council Standards. Reduce germs, dust and other allergens in your office with a cleaning and janitorial service and increase the productivity of your Portland area business.
Hotel and Resort Housekeeping
Jani-King of Portland franchisees provide Portland hotels with customizable hotel cleaning offerings improving guest experience and retention.
Healthcare Environmental Services
Jani-King of Portland is a member of the Oregon Ambulatory Surgery Center Association and understands the importance of healthcare surface disinfection in the prevention of HAI's. Our franchisees meet various healthcare cleaning and environmental services cleaning standards for hospitals and Ambulatory Surgery Centers.
Manufacturing Facility Cleaning
Jani-King franchisees provide consistent industrial cleaning and janitorial services to large and small facilities. Our commercial cleaning program can be customized to fit your needs so you can maintain your schedules.
Bank Cleaning
Impress customers with a clean and well maintained bank. We deliver unrivaled bank cleaning services to the people who matter most in, your customers.
Stadium and Event Cleaning
Ensure that your guests are greeted with clean seats, clean floors and sanitized bathrooms with Jani-King's unrivaled venue cleaning services. Jani-King of Portland franchisees know what it takes to keep a large venue clean.
Government Building Cleaning
Franchisees receive training on the specific needs of government institutions they maintain. You can trust your keys to your Jani-King of Portland Franchisee, they provide comprehensive insurance policy and dishonesty bond and conduct extensive background checks.
Retail Store Cleaning
Whether you're running a shopping center, supermarket or car dealership, Jani-King of Portland franchisees have you covered. You set the schedule for cleaning, whatever works best in your situation is what Jani-King is going to do.
Restaurant Cleaning
Your Portland restaurant should be as fresh as your food. With Jani-King's restaurant cleaning services, your cooks will have a sanitized work environment and your guests an immaculate dining area.
School and University Cleaning
Portland schools and educational facilities can quickly become breeding grounds for germs. Jani-King of Portland franchisees go above and beyond in school cleaning to give your students and teachers the best learning and teaching environments.
Contact our Jani-King of Portland office today at (503) 778-7777 or fill out the form to the right.  We look forward to talking with you about your unique commercial cleaning needs.