When Willie and Sharon Brinson, Jani-King franchise owners from Southeast Mississippi, make a commitment to operational excellence their customers can take it to the bank. As experienced business owners, the Brinson's know nothing is more important than their word.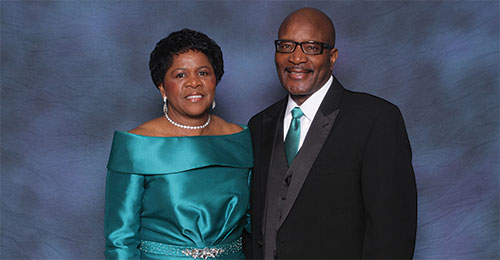 "What has impressed us most about Willie and Sharon is their teamwork," said Pat Thompson, Regional Director Jani-King of Southeast Mississippi "They take ownership of their business and recognize that in order for it to grow they must work harder to keep the business than they did to get the business. They realize that it is more than getting someone to sign on the bottom line , it is about delivering what they promised. Both Willie and Sharon have high standards and will ensure that the standard is met. They are able to hire, train and retain quality employees because they care about those who work with them. They really do recognize the importance of the people in their business and of treating their employees with respect and dignity."
For the Brinson's latest account, family, familiarity and results is what paved the way for new business. Each of the their daughters graduated from a local high school that has been a key account for the Brinson's franchise for several years. As involved parents, they were always active at the school and over the years developed a relationship with both the principal and the school system's superintendent. Both school representatives knew of the Brinson's reputation for excellence with their Jani-King clients throughout the Hattiesburg, MS, area, and eventually, agreed to an agreement with the Brinson's and Jani-King for the high school's janitorial services.
Their [Willie and Sharon Brinson] results define their organization. And because of their dedication and excellent service, more sites are to be added in the coming months according to the school's timeline and budget.
Mike Robinson
Regional Director of Jani-King of Baton Rouge
It wasn't long before other principals in the district were talking to the superintendent and the Brinson's about servicing their schools. As the Brinson's continued to deliver positive results, more schools were added. There have been a total of six schools added since the initial account was started in March of 2015.
"Willie and Sharon believed from the start they had to maintain the highest degree of operational execution if they wanted to add more schools," said Mike Robinson, Regional Director of Jani-King of Baton Rouge (past RD in Mississippi). "Their results define their organization. And because of their dedication and excellent service, more sites are to be added in the coming months according to the school's timeline and budget."