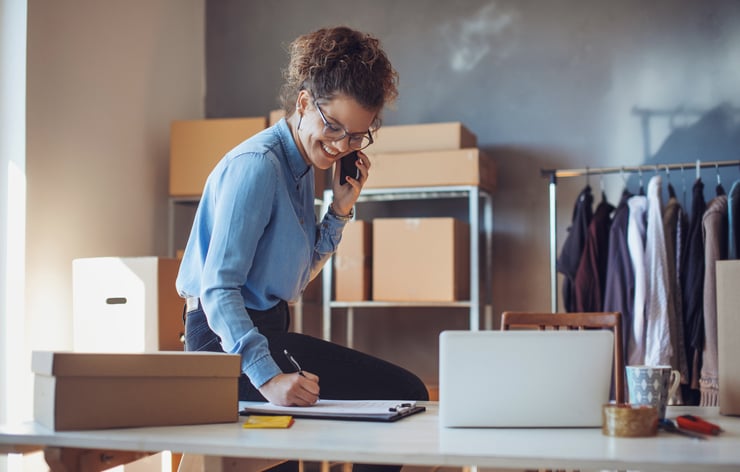 Owning a commercial cleaning business can potentially provide you with an array of benefits, including stability, independence and future financial well-being.
Starting and owning your own business comes with potential long-term satisfaction but is also acknowledged as a complex process to begin and implement. The impression of starting up or owning a new business is that it can be a tight-rope walk of stress, maddening details and overwhelming information against the purpose and meaning that comes with building up your own enterprise.
But if you're worried that becoming a business owner will result in reduced well-being, you should be heartened by a slew of recent studies that indicate otherwise. For example, a 2016 report found that only 27% of employees at large companies expressed being happy at work while 43% of their counterparts at small businesses felt the same way. Another study reported that 81% of independent workers and small business owners said they were happier once they became independent; 60% also reported becoming "healthier" after the change in status.
And owning a commercial cleaning business, particularly if franchised with a nationally recognized partner such as Jani-King of Cleveland, can alleviate some of the day-to-day concerns associated with business ownership. Read on for more on the three biggest benefits that come with owning a commercial cleaning business.
Now is a great time to start a cleaning business. Read more on our blog.
Stability and a Firm Base to Start From
The decision to invest in owning a commercial cleaning business means you'll also be investing in a stable industry, one that has remained relevant and growing despite the economic downturn caused by the pandemic over the last 18 months.
The financial security offered by cleaning franchises was evident during the last year. Businesses needed new and more thorough ways to protect employees and customers with disinfection services. Facilities temporarily shut down but have since reopened (or soon will) with the help of cleaning businesses. Those that remained open throughout did so largely because of the specialized and effective work done by committed commercial cleaning outlets.
As an industry, cleaning services are expected to enjoy a 10% job growth through 2025. This displayed stability means that owners will be less dependent on others' decisions — or likely face less impact from unforeseen events — for continued employment.
Call Your Own Shots
Owning a commercial cleaning business means you'll be in charge of the operation. There won't be a bureaucracy to wade through to institute prospective changes. You'll have the independence and autonomy to make every decision relating to your professional life. You'll be your own boss and enjoy the kind of flexibility that comes with it.
More than making all the calls, you'll also gain satisfaction from implementing your ideas as an owner. You'll be developing relationships with customers and forge potential long-term ties with other business owners in your community. And best of all, you'll be able to observe all those decisions and connections pay off; when you succeed, you'll know it's due in large part to your insight and influence. You'll have ownership of the organization in every sense of the word.
Build a Stronger Financial Future
Owning your own business, cleaning-oriented or otherwise, means every success in the short-term will go directly to reinforcing your immediate financial standing.
But the long-term benefits may be even more rewarding. Building a successful business means becoming more invested in your local community and serving as a key foundational part of your town or city.
And by becoming a franchisee with Jani-King of Cleveland, your business is truly yours. You'll get support and direction from one of the most recognized commercial cleaning brands in the world, but the business you build is yours as an appreciating asset. Through your work, your business can be developed to serve as a retirement plan and sold off at the appropriate time. Or, you can build the company into an asset to eventually pass on to family or friends.
Stability, independence and asset-building are just three benefits to owning a commercial cleaning business. Jani-King franchise owners have many more, including a way to spend more time with their family and provide a better way of life for themselves and their loved ones.
Ease Business-Owning Issues by Partnering with Jani-King
In addition to providing business ownership opportunities, Jani-King commercial cleaning franchises receive support and instruction to ensure they have every chance to succeed.
No prior cleaning experience is necessary with Jani-King's extensive training program that will help you learn about the most effective and efficient cleaning techniques and equipment.
As a franchisee, you'll also be eligible for insight and instruction into the fundamentals of operating a business. Learn how to manage personnel, develop those customer relationships and more.
The low-cost investment opportunity to start a franchise is also a plus. Jani-King of Cleveland will provide multiple options for creating and owning a commercial cleaning business, with at least three investment plans that all require less than $20,000 to begin your own franchise.
Once you've begun, our vendor partnerships will help streamline and align the day-to-day operations of your new business. Franchisees will purchase approved uniforms from Jani-King directly. Our administrative team will connect you with vetted equipment and supply distributors, and introduce you to our contact at a recommended payroll company to efficiently smooth out those processes.
Join the King of Clean Today
Jani-King of Cleveland has been working for 30 years in Northeast Ohio to provide business ownership opportunities to franchisees, and the direction and assistance to ensure their success while meeting the standards established by Jani-King. We're constantly looking to serve additional communities in the region, and we're actively seeking franchisees for many NEO communities such as Chardon, Chagrin Falls and Boardman — and all the areas in between.
Contact us today to learn more about how owning a commercial cleaning business can benefit you and your future.
Jani-King of Cleveland offers commercial cleaning, janitorial services, and franchise opportunities in Cleveland, Ohio and the surrounding communities. Contact us today to learn more.