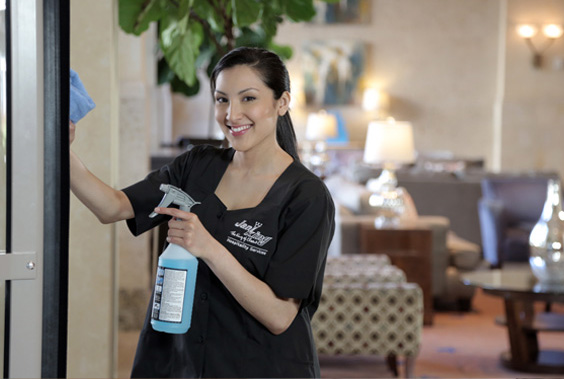 A dirty hotel has always been the fastest way to lose guests. Now, not having proper disinfecting procedures or a total cleaning and disinfecting program can send guests looking for another property. Guest safety is the highest form of hospitality, and cleanliness and disinfecting play a huge role in keeping people safe.
The housekeeping department is one of the most important and visible in hotels, especially now. Housekeeping departments are under the spotlight, with huge cleaning and disinfecting expectations. Hotels and resorts are being asked more frequently to prove that they have cleaned and disinfected hotel rooms and common areas. Housekeeping departments need to be clear to their guests when, and to what matter their room was cleaned. Clarity is key to assure guests the hotel is doing everything it can to keep guests and their staff safe and healthy.
HOTEL CLEANING & DISINFECING
Before the coronavirus pandemic, you likely never wondered when the light switches, door handles and remotes in your hotel room were last disinfected. You perhaps didn't think twice about going about your way through a packed lobby, and about sharing an elevator with fellow guests. COVID-19 has changed the way we travel, and many hotels are learning to adapt to the ever-changing environment.
Focusing More On High Traffic Touch Areas
Light Switches
Handrails
Elevator Buttons
Door Handles & Entryway Doors
Restroom Faucets & Dispensers
Phones, Remotes & Clocks
Chairs & Lamps
Jani-King offers a disinfecting program with options such as electrostatic sprayers, hydroxyl generators, fogging equipment, and manual disinfecting methods, all of which have been proven to be effective in reducing the risks associated with the spread of viruses in hotels and resorts.
Over the past two years, properties around the world have implemented cleaning and disinfecting protocols to keep travelers and employees healthy and safe. These protocols range from new cleaning and disinfecting techniques to modified housekeeping services.
For more than 50 years, Jani-King has earned our trusted reputation by providing results. No matter what your needs may be, we can deliver a commercial cleaning program that provides consistent, quality cleaning and disinfecting that enhances the value of your hotel or resort.
Jani-King offers commercial cleaning and franchise opportunities. Contact us today to learn more.