Coronavirus COVID-19 Downloads & Resources
Go
We are continuously monitoring the spread of the coronavirus COVID-19 and its impact on our communities. As an essential business, Jani-King Gulf Coast remains fully operational and are here to safely clean and disinfect our customer's facilities. We are prepared and ready to keep your business up and running or get you back to work safely.
Thank you for visiting the official webpage of Jani-King of Dothan. Our franchise owners deliver quality commercial cleaning and disinfecting services to the Dothan, Enterprise, Andalusia, and Eufaula areas.
Big or small, there's no cleaning challenge that Jani-King of Dothan can't handle. We fully commit to the cleanliness of your facility, delivering a customized cleaning schedule that is specific to your location and budgetary requirements. When it comes time to begin cleaning your facility you can rest assured knowing our highly trained franchise owners are performing the absolute best janitorial services.
If you are not completely satisfied with your current commercial cleaning situation, or are looking for COVID-19 disinfection services, please contact our Dothan regional office today at (334) 265-9830. Our professional representatives will develop a NO-CHARGE comprehensive and customized cleaning and disinfecting proposal for your facility right away!
Coronavius (COVID-19) Disinfecting
Jani-King is on the front lines of this battle and know that we are a key part of keeping businesses cleaned and disinfected. We have several options for disinfection based on customer needs, facility types, and the availability of equipment. We have procedures in place for preventative measures, like daily high touch point disinfection, in addition to Assessment and Response Procedures if there is a suspected or known case of COVID-19. We are using several methods, depending on facility type, such as: manual disinfection, fogging, spraying, and electrostatic spraying to apply EPA registered disinfectants.
Franchise Opportunities
Not only do we provide the best cleaning and disinfecting services in Dothan, we also offer Franchise Opportunities to entrepreneurs looking for a partner in success. Jani-King recently announced its latest success as the top-ranked commercial cleaning franchise as listed in the Franchise Direct – Top 100 Global Franchises. Our low-cost franchise is perfect for part-time or full-time individuals as Jani-King is consistently rated one of the top home-based franchises! Come be a part of the 'King of Clean' and call (334) 265-9830 to get more information on how to become a Jani-King Franchisee.
Service Area
The Jani-King of Dothan service area includes, but is not limited to, the following cities in Alabama: Dothan, Enterprise, Abbeville, Andalusia, and Eufaula.

Maintaining our new home is a job of such magnitude it could only be given to an organization willing and ready to tackle any challenge. Jani-King has met many challenges during our first year – events with over 100,000 in attendance from concerts, to football, to bull riding – all presenting very different issues. Jani-King has consistently provided an outstanding level of service that only serves to enhance the experience of every patron who enters our stadium, myself included.

I would like to take this opportunity to express my appreciation for the professional cleaning service Jani-King has provided me over the last 2 years. The Franchise owner that takes care of the two of our commercial buildings, and will soon obtain another one, has shown us that they are reliable, conscientious, and prideful of their work. I recommend Jani-King as a service provider to anyone looking for Commercial Custodial needs.

Words cannot describe the compliments I can bestow upon Jani-king for the incredible job Jani-King executed with the cleaning of the Olympic and Paralympic Village. 'Jani-King was the best contractor in the Village' was the most common quote from our management staff.

After interviewing a number of vendors and franchisees, we selected Jani-King to maintain our 5-star standard for our new 77,000 sq. ft. facility. From the onset, the entire Jani-King team have performed above and beyond in not only meeting our expectations, but exceeding our expectations on a daily basis.

Especially given your first season with our organization, maintaining the cleanliness and appearance that we expect and contributing positively to the guest experience was a challenge that your team members tackled head-on. Considering the age of our stadium and the configuration, the tailgating atmosphere that Bills fans create, and the passion our fans display on game day, your team handled the many challenges very well and helped us improve the guest experience this season. You helped us make an old stadium look pretty darn good!
Meet Your Executive Director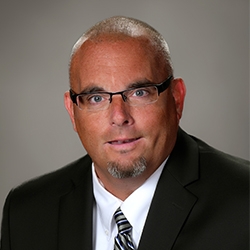 Mr. Battaglia joined Jani-King in August, 2015, as Regional Director of Montgomery and Dothan. Before that, he worked for 25 years in Retail Management. His last management role was with Publix Supermarkets in Montgomery, AL. Bryan was born and raised in Connecticut and he attended the University of Connecticut.
Recent Jani-King of Dothan Posts