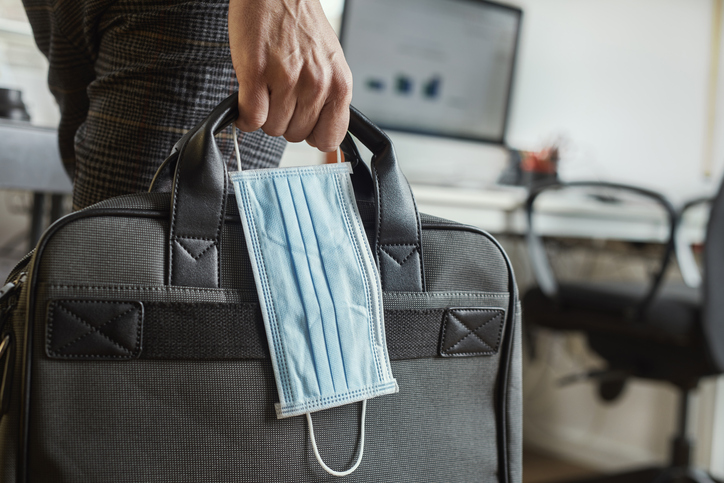 Looking to Get the Team Back in the Office This Year?
You're not alone. Some of the largest companies across the country are beginning to set target dates for when employees will be welcomed back into offices. Many companies were looking to resume normal operations in late Q4, but a staggering resurgence of the coronavirus in Q4 forced many to push those dates to summer 2021. And while cases are on the downswing at the time of writing, Ohio remains at a high point for new and overall cases since the pandemic first arose last year. Even if your target date to return to the office is months away, it's essential to consider your return-to-work cleaning strategy.
It's important to understand that return-to-work cleaning must be of greater and more thorough scope than any existing commercial cleaning service you might already have in place. Many offices remain closed throughout Northeast Ohio, and while some have specific operations or teams that must be on-site, bringing the full workforce back when you want to reopen will require a more in-depth approach that addresses every surface and piece of equipment, considers the activities performed in various spaces, and looks ahead to ensure reliable supplies and support are in place.
Let's take a look at three return-to-work cleaning recommendations that should be considered as you look to welcome employees, customers, vendors, and other partners back to your Northeast Ohio locations.
3 Return-to-Work Cleaning Considerations
Building Your Plan to Keep People Safe
Most office cleaning programs prior to the pandemic were aesthetic, meaning surfaces were physically wiped to clean them and remove visible soils. Additional steps are now needed to ensure more thorough cleaning and disinfection using a technical approach. For example, disinfection should now occur after cleaning has been completed to kill pathogens on surfaces and objects. Cleaning should not happen after disinfection as the disinfectant could be removed from the surface being cleaned. Disinfectants approved for use in killing the coronavirus must be allowed adequate time to remain on the surface.
To make this process efficient and effective for your facilities, you should first develop a proper cleaning and disinfection plan. According to the CDC, your return-to-work cleaning plan should focus on:
Determining what needs to be cleaned first
Determining how areas will be disinfected
Considering the resources and equipment needed
Once the plan has been established, it should be put into action right away — before opening your facilities — with steps taken to maintain consistent cleaning and disinfection. Based on the availability of the Environmental Protection Agency (EPA)-registered disinfectants and personal protective equipment (PPE), you may need to make periodic revisions. What matters most here is that these changes be communicated to employees, customers, and of course, the company you contract with for commercial cleaning in Northeast Ohio.
The Jani-King of Cleveland Difference: Our team follows a rigorous process to first assess the risk of contamination based on several scoring criteria, then develops a return-to-work cleaning and disinfection plan based on the results. On the disinfection end, we concentrate on virtually every surface in your facility, including doorknobs, light switches, elevators, bathroom fixtures, handrails, workstations, chairs, conference rooms, telephones, and even electronic equipment like keywords and mice.
Take Return-to-Work Cleaning a Step Further with Preventive Measures
Your return-to-work cleaning and disinfection plan is a foundational part of your overall strategy for protecting employees, customers, and others from the virus while in your facilities. However, preventive measures will help you extend this protection before people even enter the building. For example, understanding the daily occupancy of people entering your facilities will help you determine the consistency and level of cleaning and disinfection needed in your plan. Similarly, understanding and tracing the exposure potential of any equipment being brought in will be essential. You'll want to know if it had been used recently in other facilities and whether it had been disinfected — and documented — prior to entering yours.
If your organization doesn't already have a screening process in place, one should be developed to verify that employees and visitors aren't displaying the symptoms of COVID-19. Whether you simply require people to verify this on a sign-in sheet or use an electronic solution like a tablet is up to your organization. Also, consider implementing a way to check employees' and visitors' temperatures before entering the building — one that doesn't require a screener to touch people's skin.
The Jani-King of Cleveland Difference: Our environmental consultants will meet with you to review your facility, foot traffic information, and more to help you understand what is needed to prepare your return-to-work cleaning and disinfection plan. We follow all CDC guidelines during our consultations and for re-opening facilities.
Consider Whether Your Current Provider Will Meet Your Needs
Not every cleaning company has the capability to conduct technical disinfection or to assist you in developing a truly effective return-to-work cleaning plan. For example, you may have contracted with a local cleaning company that simply visits your facilities on a preset schedule and conducts a baseline (i.e. aesthetic) cleaning level. They may not have the resources, capabilities, or availability to support you in conducting an analysis of your facilities to identify all high-touch areas requiring cleaning and proper disinfection.
Additionally, do you lean on your cleaning provider as a supplier for hand sanitizer, toilet paper, and other items like masks? Are they able to provide these items to ensure your business is ready to open? Will they be able to continue keeping them in supply? More importantly, is the company ready and able to support your return-to-work timeline? If you should experience a potential contamination event, will they be able to step in with appropriate PPE and EPA-registered disinfectants at a moment's notice?
The Jani-King of Cleveland Difference: We take a strategic approach to every return-to-work cleaning and disinfection project. In addition to technical disinfecting, Jani-King of Cleveland offers solutions like electrostatic spraying — a full-facility disinfection application that disperses sporicidal contact solution over every surface. The electrostatic-charged mist meets CDC guidelines and is EPA approved to kill the COVID-19 virus within one minute of contact.
Work with Jani-King of Cleveland for Your Return-to-Work Strategy
Jani-King of Cleveland has been on the front line throughout the entire pandemic, assisting organizations throughout Northeast Ohio with their cleaning and disinfecting needs. Whether you've already returned to the office or are looking to bring your team back together this year, our experts are ready to assist.
Contact us today to schedule your environmental consultation.
Jani-King of Cleveland offers commercial cleaning, janitorial services, and franchise opportunities in Cleveland, Ohio and the surrounding communities. Contact us today to learn more.