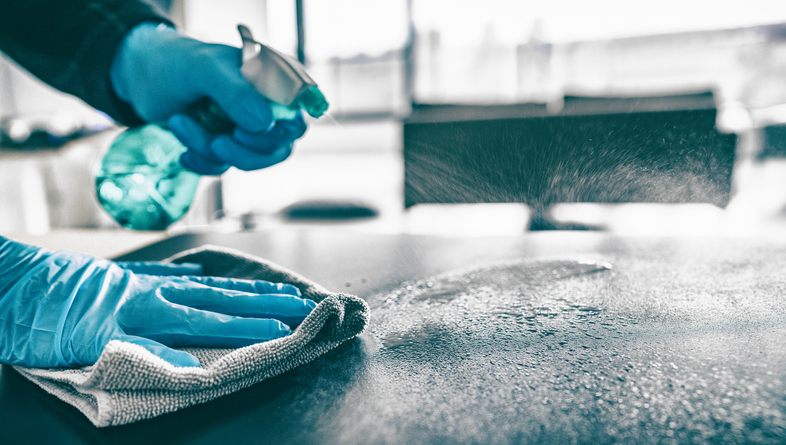 Learn More About Additional Benefits of Professional Cleaning Services
Cleaning for health is not a new concept, or one that grew exclusively out of response to the pandemic. But the circumstances of the last two years have certainly highlighted the ideology and given it additional heft.
The concept of using professionally-offered services in cleaning for health — rather than for cleanliness and appearance only — has gained momentum in recent years and rocketed to prominence with the onset of the COVID-19 pandemic. Facility executives now have a better understanding of how cleaning can affect the building occupants, consumers are more savvy on the subject, and business owners want to demonstrate they are doing all they can to protect both workers and customers in retail environments, office spaces, manufacturing centers, and much more.
Engaging with commercial cleaning services with an eye on health benefits can have bottom line effects for the business itself, beyond the overarching aims of providing a safer environment for employees and customers. Cleaning for health includes disinfecting services, which can help reduce the potential for spread of dangerous viruses and bacteria. Even outside of a world-wide pandemic, this can have advantages.
For instance, in 2019 — before the pandemic — absenteeism and lost productivity due to illness was estimated to cost U.S. employers approximately $575 billion, or around $3,900 per employee. According to further analysis from the Integrated Benefits Institute, workers missed a combined 1.5 billion days of work due to illness in 2019. The bulk of that time — and the lost productivity and added cost — came from common colds and the flu, both of which can be mitigated with cleaning for health principles. While the flu was a non-factor in 2020-21 because of the protocols in place due to the pandemic, it's expected to potentially return to its normally disruptive levels at some point; the CDC reported approximately 38 million cases of the flu during the season covering 2019-2020.
Cleaning for the sole purpose of appearance is no longer sufficient. Facilities and businesses must adopt a cleaning for health approach as well to restore confidence, uphold brand reputation, and minimize the spread of infectious agents.
Learn more about our disinfection services. Get a free quote now.
Go Professional When Cleaning for Health
In many ways, the ongoing pandemic has redefined cleanliness. It's not enough now for windows to be streak free, countertops to be dusted, floors polished, and carpets cleaned. More is asked of commercial cleaning businesses these days than simply ensuring the surfaces and spaces in work environments look clean. They must be clean beyond what the naked eye can see, and adhere to standards developed during the current crisis.
While the COVID-19 virus is understood to spread more easily from person to person through the air, every virus will have different characteristics (including the flu virus). The public expects businesses to take every precaution to uphold cleanliness and limit any potential virus spread from surfaces to people. Organizations that demonstrate their dedication to preventative measures during the pandemic — and beyond — will earn trust and confidence from those they hope to serve. In the process, these organizations also have a chance to set themselves apart for later success.
Thus, not only is visible and consistent cleaning a must, but facilities also need to use effective products and technologies to improve cleaning performance and demonstrate they are taking these services and precautions seriously. Organized, proactive commercial cleaning businesses will have the information needed for best practices, access to approved materials, and will have acquired the training and technologies necessary to provide the attention to detail needed to execute these essential services.
From hospitals to arenas and everywhere in between. We service every business space imaginable. Learn more here.
Use Best Practices to Promote a Healthy Building
Regular, consistent cleaning conducted by professional staff has always been one of the core tenets of practicing Healthy Building concepts — ideals that govern the factors that need to be addressed to improve the health of the people in an enclosed space. However, cleaning for health goes a step further by removing some of the harmful elements in such spaces — like bacteria, fungi, and viruses. Consider these best practices when selecting commercial cleaning companies to show your commitment to protecting your buildings, facilities, and the people who can be found in both.
Review Cleaning Chemicals
The Environmental Protection Agency (EPA) released List N to give clear guidance on the specific disinfectants approved for use in killing the COVID-19 virus. From ready-to-use disinfectant sprays to disposable wipes, there are many available options on the list. Users can filter the list by the type of environment they'll be used in, the kinds of surfaces treated, and the contact time needed for each. Given those variables, some will simply perform better than others. Trust your commercial cleaning partner to help you select the best approved chemicals for treating your environment.
Training and Re-Training
Clear, effective, and consistent training and education is key to executing any cleaning for health initiative. Those implementing the cleaning and disinfecting plan should be up to speed on not only the approved chemicals to be used, but also the equipment, tools, and recommendations needed to fulfill the requirements asked.
You'll want a commercial cleaning and disinfection service provider that has the experience and knowledge to cover all facets of such an undertaking. This includes a proactive management or corporate partner that can offer updates when circumstances, or government recommendations, change. This includes many factors including (but not limited to):
Knowing the importance of implementing heavy cleaning first, then disinfecting second
Understanding how key concepts, like adhering to dwell times, lead to more effective results
Experience in handling essential pieces of equipment, like electrostatic sprayers, correctly
Tools of the trade. Learn more about electrostatic spraying and why it's become more essential than ever.
Jani-King Has the Expertise for Cleaning for Health
Jani-King of Cleveland has provided needed commercial cleaning and disinfecting services for more than 30 years, and our status as a proven, dependable partner was essential for many organizations in Northeast Ohio over the past year.
We've been a leader in the ongoing fight to keep businesses open during the pandemic with regular updates on the best practices needed to disinfect your facilities. We offer extensive start up training to all franchisees, and then follow up with strong, regular support from our regional office. Vendor partnerships mean every franchise will have access to the equipment, cleaning and disinfection agents, and all the other supplies they'll need.
Connect with us today to secure the services needed to promote cleaning for health in your facility or building.
Jani-King of Cleveland offers commercial cleaning, janitorial services, and franchise opportunities in Cleveland, Ohio and the surrounding communities. Contact us today to learn more.