Guillermo and Griselda Camacho have been married 40 years. For 15 of those years, they've owned and operated their Jani-King franchise in Albuquerque, New Mexico. Guillermo served in a supervisory role in his earlier work. It was important for him to still be able to lead people, but he wanted to use his leadership talent in a business of his own.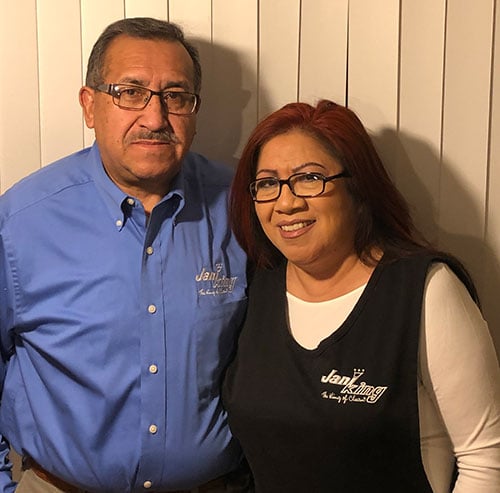 How did you decide to become Jani-King Franchise Owners?
Guillermo: It was a decision we made together. We knew that owning a business would give me and my wife more opportunity than working for someone else. We did the research together and discussed our thoughts. At first, we weren't just looking at cleaning businesses. We looked at all the different types of businesses and franchises. 
We settled on Jani-King for a lot of reasons, but I really liked how Jani-King treated me and my wife. At the time my wife didn't speak very much English and they were very respectful of her and us. We also liked how transparent Jani-King got about the business. They answered all of our questions. And we didn't have the worry that they were leaving something out to get us on board. 
Do any other family members work in your business?
Griselda: Yes, our son Guillermo Camacho, Jr. (38). He and I work together at our clients' locations. My son has his own busy life now, and it's nice we can see him more at work. My son and I are a good team. 
What's the best quality your wife has at work? 
Guillermo: Griselda is very detailed and very professional. She sets a very high standard for quality in the work she does. She has her way that she cleans and she notices if something isn't right. She and her team don't leave until the work meets her standards. A lot of times businesses are surprised to see how clean their place is when she's done. Also, she always has a very professional attitude and does whatever she can to take care of our clients. She checks in with them to make sure they are happy with our work. Everybody knows they can count on her. 
What's your best quality at work?
Guillermo: I'm not picky about my work hours. I'm very flexible and I like to work, so I work whenever I'm needed. Our kid is grown so I have more time. It can be nice for people that need some cleaning at a different time of day or night than most people work. With all the changes to the way people do business right now, their needs are changing too. If clients need to make changes to the schedule, I'm able to help them out. I'm always willing to work when clients need me. 
What's your advice for couples that are trying to grow their Jani-King Franchise?
Guillermo: Be professional in everything you do. Even when you're talking to each other. Treat your clients professionally. You need to show them how important their business is for yours. 
Remember that the first impression matters! It's true what they say, you only have one chance to show your customers how much you can help them. From the first day, you need to make quality the most important thing. Never measure your work by the hour. Only leave when you've done the very best work you can. Clients will talk and refer you if your work is always good. 
What is your favorite thing about owning a Jani-King franchise together?
Guillermo: If we're not in the customer facilities we can trust that the crew will perform good work. We've got good people that care. They are trained and reliable. That makes owning our business less stressful. We can step away when we have other appointments or need to take a break. 
In closing:
If you've been thinking about going into business for yourself, and perhaps with your significant other, Jani-King would love to know more about you. Reach us to get all your questions answered, so you can decide if a Jani-King franchise is right for you.