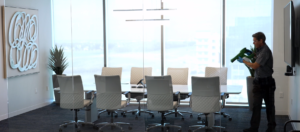 Due to the easily transmissible Omicron strain and the rising number of cases here in the United States and around the world, it is wise to implement a regular disinfection program in commercial buildings. A professional janitorial company can better protect employees and customers by reducing the spread of germs and viruses.
On November 26, 2021, the World Health Organization (WHO) designated the Omicron Variant (B.1.1.529) a variant of concern, and it's been spreading at rapid rate ever since.  Now, there is no doubt the ongoing battle against the pandemic has hit another crucial crossroad. Data indicates active cases are rising rapidly in many parts of the US, and both the daily new case numbers and 7-day averages are getting higher.
So how does all of this affect your business?  As we saw with the Covid-19 Coronavirus, and as we are seeing now with the Omicron Variant, the rapid spread of the virus is forcing businesses to implement strategies to remain open. Several state and local governments in the US are already clamping down on businesses in hopes of slowing the spread.
Trust a Leader in Omicron Variant Disinfecting Services
Jani-King is a leader in developing proactive responses to the ever-changing environment during this pandemic and has helped many businesses remain open through a comprehensive commercial cleaning and disinfecting program.
The use of electrostatic sprayers, fogging equipment, and manual disinfecting methods have been proven to be effective in reducing the risks associated with the spread of viruses in a work environment. Having Omicron variant procedures in place now may be the difference between remaining open for business or having to close your doors when positive Covid cases begin to spike in your area.
How is Jani-King Prepared for Omicron Variant?
Jani-King has the right equipment and expertise to combat the spread of germs and viruses as new variants develop. What we know works is routine cleaning and scheduled disinfection of high-risk areas and frequently touched items.
Electrostatic sprayers enable approved and proven disinfectants to more effectively coat and cling to hard, nonporous surfaces, ensuring quick and effective application even in large or harder to reach areas.
An effective method for cleaning the air inside a facility is using a hydroxyl generator device that is powered by high-energy ultraviolet photochemistry.  Hydroxyl generators attack viruses, bacteria, mold and other pathogens in the air, and on surfaces and fabrics. By generating atmospheric hydroxyl radicals, a powerful sanitizing oxidant, you can have consistent disinfecting coverage in small spaces or large conference rooms.
As effective as the powered applications are, there's no true substitute for a manual disinfecting application.  Using FDA approved disinfecting agents – which will kill the virus (SARS-CoV-2) that causes COVID – our cleaning experts will apply the approved disinfectant with spray bottles, and then wipe away the remnants with a cloth after observing the proper dwell time. Allowing the appropriate dwell time is absolutely critical as that's the amount of time needed for the chemical to do its job.
According to CDC guidelines, cleaning processes should occur before disinfection. Proper cleaning will improve the effectiveness of disinfecting agents in killing the pathogens on surfaces and objects.
Work with Jani-King for Omicron Variant Disinfection
Every industry or facility will benefit from our professional services. Whether you're in an office building, retail store, restaurant, school or operate in any other type of work environment. A cleaned and disinfected facility will provide a safe environment for everyone during this Omicron Variant surge.
If your have any other questions please visit our website www.janiking.com or call 1.800.JANIKING.