Environmental Services
An integrated support services approach to engaging healthcare & hospitality for your patients, hospital staff and visitors.
Jani-King is focused on providing Environmental Services for your healthcare facility that serves your patients, the hospital staff, and their visitors with proven hospital housekeeping systems. It is critical that your housekeeping program develops both healthcare, and hospitality programs that address the needs of this community holistically. Whether that is using the latest technologies, high level training & education, customer service programs, or integrated cleaning systems we are able to provide consistent solutions to all of our EVS partners in the building. Let's work together to understand how each member of the healthcare community is impacted by the performance of the EVS department.
Patients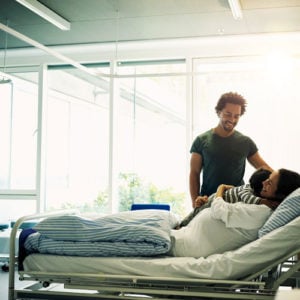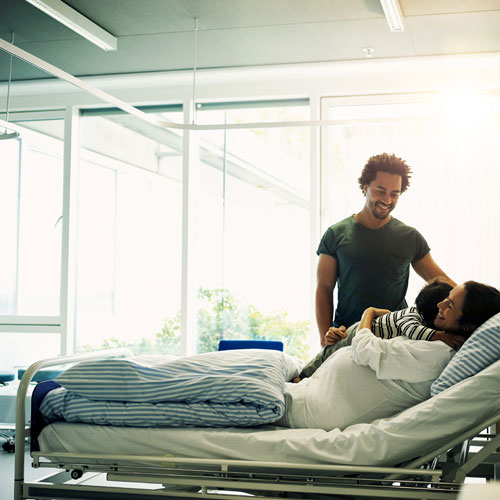 Patients have come to your healthcare facility for medical attention, and are seeking the opportunity to heal quickly and safely.
Healthcare Associated Infections ( HAI )
These are the infections that occur when a patient comes into your healthcare environment, and gets an infection while in your facility under the care or treatment of a provider.
The EVS department can prevent a healthcare associated infection through educating our front line team members about the correct chemicals & dwell times to use when disinfecting and sanitizing surfaces.
EVS cleaners can then help prevent extended stays for patients, or a readmission, and improve their overall safety & healing process
This will help reduce overall liability for a healthcare facility, save them time & money, and protect valuable resources in their treatment of patients.
The EVS department is motivated by the prospect of helping to save a patient's life through infection control
EVS cleaners can provide a hospitable environment using AIDET: Acknowledge, Introduce, Duration, Explanation, and Thank You
The EVS cleaner greets the patient with a warm smile, and eye contact
The patient can learn the name of the EVS cleaner, their professional experience, and identifiable uniform traits
The EVS cleaner sets an expectation for the service being performed
The EVS cleaner can become a liaison for communicating with other support service programs
The EVS cleaner can thank the patient for their stay, and make them feel confident and comfortable in their healing process, and that they chose the right provider.
Hospital Staff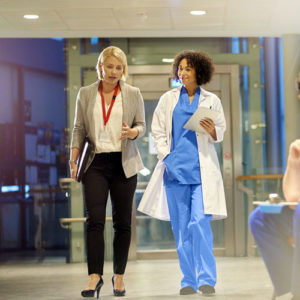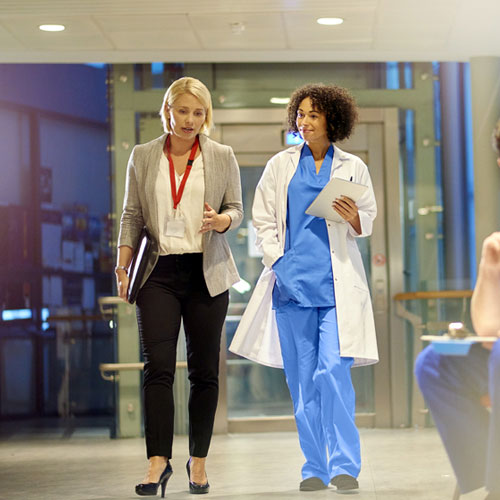 Hospital Staff have to work very closely with the Environmental Services department to ensure that all support services are an integrated system that serves the patient together as a team.
There needs to be consistent, and clear communication between nursing departments and environmental services team members:
Maybe that is a nurse who calls down to the EVS department that a patient got sick and needs a quick freshen up so their room does not have a foul odor throughout the night
Maybe that is the bed control nurse trying to clear out the ER, and ensure that sick patients have a room to heal in more quickly, and they call the EVS team to coordinate discharges
Maybe that is a nurse who calls down for some fresh linens to support a patient who wants to feel warm and comfy at night with a nice blanket
The nursing department cant notify an EVS cleaner of an isolation room that should be terminal cleaned & disinfected, and help reduce a healthcare associated infection
EVS department personnel should ensure that all support staff have clean & disinfected departments:
Hospital staff need to feel happy & healthy if they are going to help a patient feel the same way
A doctor with a clean desk area feels organized heading into their dictation, and is freed up to think more clearly about patient care solutions
A nursing assistant working with access to soap dispensers that are properly filled helps to support hand hygiene in between the treatment of patients
Perhaps a swept out, and neat nursing station floor allows a respiratory therapist maneuver more quickly to a patient who might be having an emergency, and needs support now down the hall
Family members will feel confident in the hospital staff who are approached in clean working environment
Supported nursing leads to higher production, and lower overhead costs
Other Support Services should align with your EVS department to identify, and complete work orders:
Maybe that is an housekeeper who lets Plant Ops know a toilet needs repair for a patient or their family member
Maybe that is a housekeeper working with the patient transport team to understand arrival time, and ensure that their room is cleaned & ready for use
Maybe that is a food service manager who spilled a coffee delivery, and needs a mop up so the patient is not walking on a dirty floor
Maybe that is the EVS department working with supply chain to set up hands free drying systems in the main lobby restrooms to promote a hygienic, and efficiently utilized space
Identifying maintenance requests helps you consistently understand the condition of your plant, and to budget appropriately
Visitors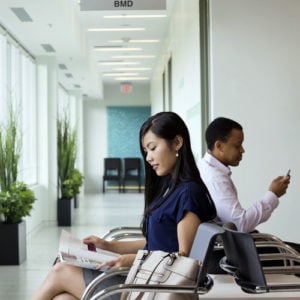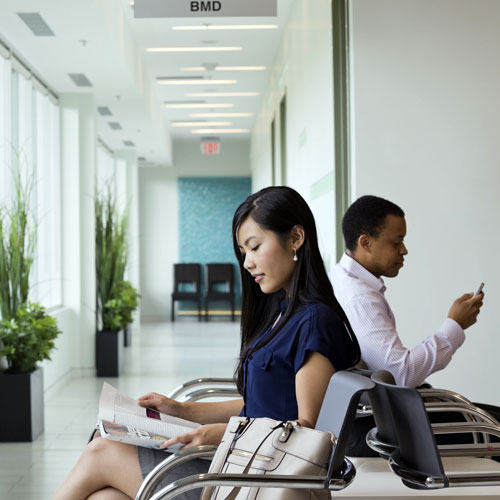 Visitors who enter a healthcare facility need to feel confident that their loved ones are getting the attention, and treatment that they deserve, and require to heal correctly by their provider.
Integrated EVS department personnel know exactly where to direct visitors who are looking for a patient, a doctor, or an administrator
Visitors are more likely to trust EVS department personnel are wearing distinct uniforms, and are easily identifiable with name tags
Visitors can tell when EVS personnel are proud and motivated to be at work by their smile, mood & effort
EVS cleaners provide a great first impression to visitors by using clean & disinfected equipment & supplies
A clean building helps build long lasting relationships with your visitors who continue using you as a provider because they trust you, which is a financial plus
Jani-King Healthcare Services and Hospital Housekeeping Systems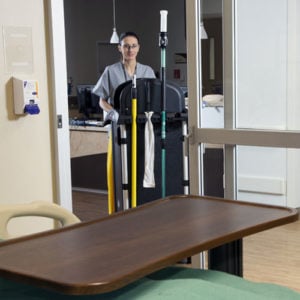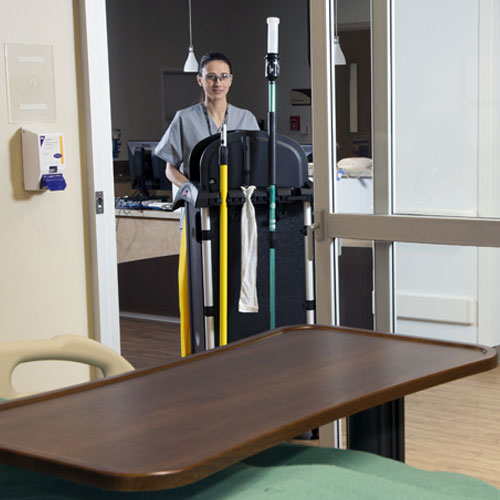 At Jani-King we work together with our people to train & educate, and focus them on our patients, the staff who treat them, and their visitors. We create an integrated support services program that focuses on both healthcare & hospitality. Jani-King takes pride in our performance by engaging all of our healthcare communities, and ensuring their safety, and that your healthcare facilities and their valuable resources are protected. Learn more about commercial cleaning.