By: Scott Finley
What do you know about carpets?  Cleopatra was supposedly rolled up in one and presented to Caesar.  (Don't try this at home)  The oldest surviving carpet is the Pazyryk carpet, made in Armenia or Persia, and dating back to the 5th century BC.  And of course, we're all familiar with Aladdin and his flying carpet. (Again, don't try this at home.  It didn't work when I was seven years old and I doubt it will work now.)[vc_row][vc_column][vc_column_text]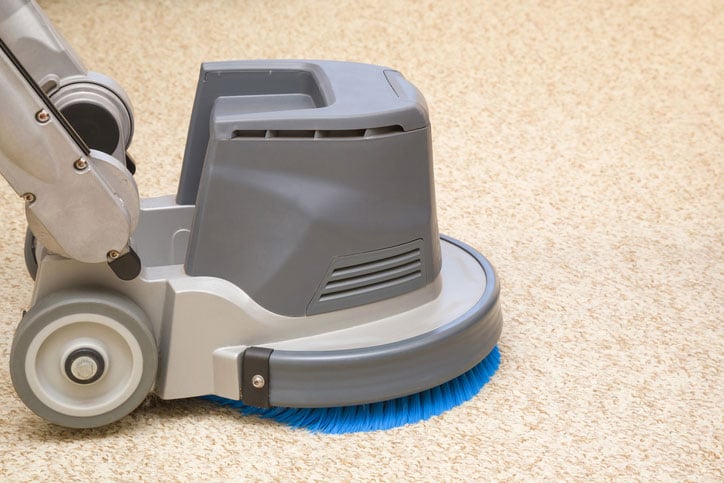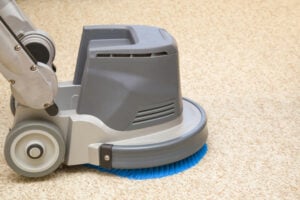 Carpets are knotted, hooked, embroidered and woven.  They cover the floor in one room, or in an entire building.  They're comfortable for your feet, they keep the building warm, they invite customers to step in and spend some time.
Unfortunately, carpets are also magnets for dust, dirt, stains and other items that detract from their beauty.
Fortunately, there's a solution:  Jani-King of New Mexico carpet cleaning.
Jani-King trained professional cleaners use ONLY steam/hot water extraction, because cleaning your carpet is half of the battle.  Leaving it dry is the other half.  Let's face it, the carpets on the Titanic were probably quite clean, but they were never going to dry out.
You also need a janitorial service that's not afraid to get down on their hands and knees and read the fine print.  The carpet manufacturer's warranty often has details on proper cleaning.  It's not like throwing your blue jeans in the washing machine.  There's a reason carpets come in so many shapes and sizes and textures and colors.  One size does not fit all in carpet tastes, and one size does NOT fit all in carpet cleaning, either.  Your Jani-King trained franchisees approach each job as a unique and individual experience.
You spent a lot of money and time choosing just the right carpet and pattern for your offices.  Why would you trust it to anyone other than a Jani-King trained cleaner?
Call us or come by for a free quote.  We'd love to talk with you about your needs and how we can help you get the clean you need at the price you want.
We have offices across the Land of Enchantment to maintain full coverage for every kind of building, from stadiums to hospitals to manufacturing facilities and everything in between.
Need a reference?  We'll be glad to give you as many as you'd like – we're that confident of our cleaning services.
Remember, it's not just clean – it's Jani-King clean!
Until next week, keep it clean out there![/vc_column_text][vc_raw_html]JTNDc2NyaXB0JTIwYXN5bmMlMjBzcmMlM0QlMjJodHRwcyUzQSUyRiUyRmtub3dsZWRnZXRhZ3MueWV4dHBhZ2VzLm5ldCUyRmVtYmVkJTNGa2V5JTNEdzM2ODYtUy1VSXVkVVpPTU9tVlFOTEk1WlpoSFpDZXg1TkNfbGhrZXF2RFZJOWo5SzdYVVJFdnR3NkYtVThaRSUyNmFjY291bnRfaWQlM0QxNDA4Mzg4JTI2bG9jYXRpb25faWQlM0Q4JTIyJTIwdHlwZSUzRCUyMnRleHQlMkZqYXZhc2NyaXB0JTIyJTNFJTNDJTJGc2NyaXB0JTNFJTBBJTBBJTNDc3BhbiUyMGRhdGEteWV4dC1maWVsZCUzRCUyMmxvY2F0aW9uTmFtZSUyMiUyMGRhdGEteWV4dC1pZCUzRCUyMjglMjIlM0UlM0MlMkZzcGFuJTNFJTNDYnIlM0UlMEElM0NhJTIwZGF0YS15ZXh0LWZpZWxkJTNEJTIycGhvbmUlMjIlMjBkYXRhLXlleHQtaWQlM0QlMjI4JTIyJTNFJTNDJTJGYSUzRSUzQ2JyJTNFJTBBJTNDc3BhbiUyMGRhdGEteWV4dC1maWVsZCUzRCUyMmFkZHJlc3MxJTIyJTIwZGF0YS15ZXh0LWlkJTNEJTIyOCUyMiUzRSUzQyUyRnNwYW4lM0UlM0NiciUzRSUwQSUzQ3NwYW4lMjBkYXRhLXlleHQtZmllbGQlM0QlMjJhZGRyZXNzMiUyMiUyMGRhdGEteWV4dC1pZCUzRCUyMjglMjIlM0UlM0MlMkZzcGFuJTNFJTNDYnIlM0UlMEElM0NzcGFuJTIwZGF0YS15ZXh0LWZpZWxkJTNEJTIyY2l0eSUyMiUyMGRhdGEteWV4dC1pZCUzRCUyMjglMjIlM0UlM0MlMkZzcGFuJTNFJTNDYnIlM0UlMEElM0NzcGFuJTIwZGF0YS15ZXh0LWZpZWxkJTNEJTIyc3RhdGUlMjIlMjBkYXRhLXlleHQtaWQlM0QlMjI4JTIyJTNFJTNDJTJGc3BhbiUzRSUzQ2JyJTNFJTBBJTNDc3BhbiUyMGRhdGEteWV4dC1maWVsZCUzRCUyMnppcCUyMiUyMGRhdGEteWV4dC1pZCUzRCUyMjglMjIlM0UlM0MlMkZzcGFuJTNFJTNDYnIlM0UlMEElM0NkaXYlMjBkYXRhLXlleHQtZmllbGQlM0QlMjJob3VycyUyMiUyMGRhdGEteWV4dC1pZCUzRCUyMjglMjIlM0UlM0MlMkZkaXYlM0UlM0NiciUzRSUwQQ==[/vc_raw_html][/vc_column][/vc_row]