Jani-King of New York has been called into action at the U.S. Military Academy at West Point. The academy is a four-year federal service academy in West Point, New York. It was originally established as a fort that sits on strategic high ground overlooking the Hudson River with a scenic view, 50 miles north of New York City. It is the oldest of the five American service academies.
Jani-King has been contracted to provide cleaning and disinfecting services to two floors of the academy's barracks. One floor is set up for housing patients that have tested positive for Covid-19. The other floor is being used as a quarantine area.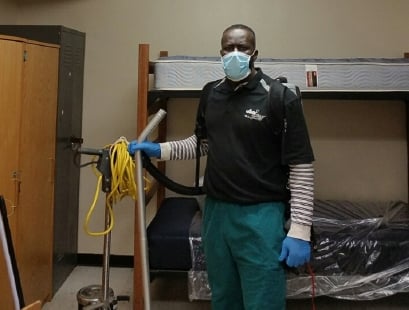 Besides the challenges of disinfecting such a high-risk environment, Jani-King's franchisee and employees were also required to pass stringent background checks and a physical examination. As you can imagine, access to an active military facility is always heavily controlled.
Working with the military comes with its advantages as well. Safety procedures are in place, equipment is on-hand and protocols are followed to ensure safety and cooperation. We are proud to say that Jani-King is meeting the highest expectations and doing our part to protect the cadets and others at the academy.