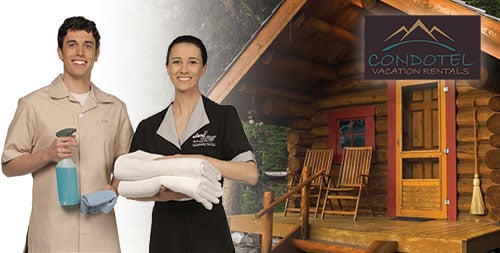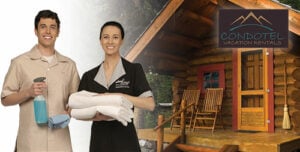 Jani-King's corporate hospitality division and the New Mexico regional office teamed up to sign a contract for over 100 properties in Ruidoso, NM. Condotel Corporation is a premier vacation rental home management company in Ruidoso with 30 years of success and an inventory of more than 100 cabins and condominiums.
With units ranging from two bedroom, one bathroom units all the way up to nine bedroom, nine bathroom properties, Jani-King was clearly the right choice for an account of this size. The strategy for this account is to start with a few properties and ramp up services to all properties by the end of this summer.
"Currently we provide room attendants only, however, the franchise owner has been providing on-site management on a daily basis," said Eric Newburn, Hospitality Advisor for Jani-King corporate. "This start-up is a huge win for the region as it has allowed three other local hotels to see the quality results provided by our franchise owners and regional office support."
Proving just how valuable great service is to growing business, the Condotel account was first initiated through a referral from another resort property in Ruidoso. Executives at the Crown Point Hilton, a property managed by Vacation Resorts International/Trading Places International (VRI-TRI), contacted Coleman Hudson, Executive Director at Jani-King corporate to get the ball rolling at Condotel.
Next, Hudson reached out to Jani-King's hospitality team at corporate and Jeff Livingston, Hospitality Advisor, quickly put the initial bid together. From there, the region and hospitality department continued to work together to close this impressive deal.
New Mexico has quickly become a hotbed for hotel and resort properties for Jani-King. In addition to the new account with Condotel, Jani-King franchisees already provide service at two timeshare properties in Ruidoso and will soon be servicing two other properties in town that are managed by Crownpoint. In Albuquerque, Jani-King provides services to Hotel Cascada.