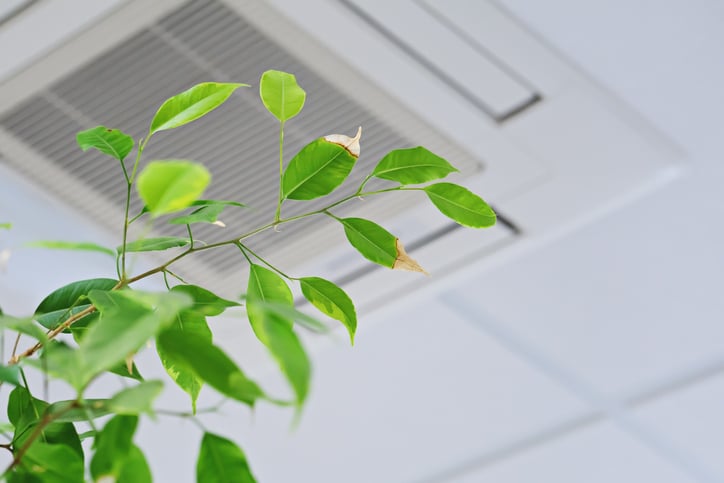 Avoid Complicated Health Issues by Addressing Your Indoor Environment
The importance of indoor air quality (IAQ) cannot be overstated. Access to clean, fresh air to breathe inside our homes, offices, retail spaces, health facilities, and education centers every day is essential in providing a not only livable, but healthy environment for the people contained within those spaces. The opposite is also true; poor indoor air quality is a significant contributor to negative effects on an individual's health.
It is the owner's responsibility to ensure that the air quality inside their structures — be a single home-owner or a business owner with several sites — doesn't adversely impact those that live, visit, work, or shop in those facilities. But creating a safe environment or 'healthy building' encompasses many elements and it's easy to lose sight of the one factor you can't visually see — the air quality.
The United States Environmental Protection Agency understands the importance of indoor air quality, which it refers to as "the air quality within and around buildings and structures, especially as it relates to the health and comfort of building occupants." The government agency details how poor indoor air quality or indoor air pollutants can lead to negative health effects both immediately after exposure, and years later.
Today we'll examine some of the factors that threaten air quality and underscore the importance of indoor air quality. We'll also look at the concept of sick building syndrome and how air quality relates to it, and how a professional cleaning and disinfection partner can help address air quality issues.
From hospitals to arenas and everywhere in between. Jani-King of Cleveland services every business space imaginable. Learn more here.
Factors that Impair Indoor Air Quality
In energy conservation efforts, most modern residential and commercial buildings today are made to be airtight. While this may help contribute to lower heating and cooling costs, it can — without proper ventilation — lead to buildup of airborne contaminants inside buildings with nowhere to go and then negatively impact IAQ.
There are many potential pollutants that adversely affect IAQ in homes, offices and other public spaces. Exposure to Volatile Organic Compounds (VOCs) and chemicals from new paint, flooring, or other furnishings can cause health issues like nausea, fatigue, and allergic reactions. Second-hand smoke has an immense negative impact on IAQ, particularly in enclosed spaces. Other common pollutants include radon, lead particles, asbestos or other building materials, nitrogen dioxide, mold, and mildew.
Poor ventilation can lead to dust, pollen, and even bacteria buildup. Too much humidity in the air can create favorable conditions for the growth of mold and dust mites. While air that is too dry can lead to rashes, dry skin, and eye irritation. Failure to maintain a clean HVAC system can lead to dust-polluted air — either warmed or cooled — circulating throughout your building triggering reactions. Excess moisture caused by leaks in your HVAC system encourages mold and mildew growth.
All of these factors, and many more, can lead to adverse health effects which may show up after a single exposure or after repeated incidents. These include things like irritation of the eyes, nose, and throat, headaches, fatigue, and dizziness. Symptoms of some diseases, like asthma, may become aggravated. While more research is needed, the importance of indoor air quality is driven home by the long-term effects that have been attributed to consistent exposure to air pollutants. These include some, such as respiratory diseases, heart disease, and cancer, that are potentially fatal.
Learn more about our disinfection services. Get a free quote now.
Sick Building Syndrome and Building Related Illness
The importance of indoor air quality is underscored again when discussing sick building syndrome (SBS) and building related illness (BRI) as it is thought to be a factor in both conditions. SBS is used to describe situations in which building occupants experience acute health and discomfort effects that appear to be linked to time spent in a building, but no specific illness or cause can be identified. By contrast, BRI is used when symptoms of a diagnosable illness are identified and attributed directly to an airborne building contaminant — such as mold toxin, bacteria, or a virus.
While occupants suffering from SBS will complain of symptoms from an unknown cause, they will often experience relief soon after leaving the building or structure. Those suffering from a BRI will have specific, consistent symptoms caused by certain elements, be it chemicals, bacteria, fungi, and so on. These can be identified, measured and quantified.
A key point to remember, however, is that improving the indoor air quality of a particular building will often limit or eliminate either the exposure to a BRI-causing element or the symptoms experienced by those suffering from SBS. Careful analysis by medical professionals can identify the exact cause of the BRI, and show a causal path to infection for the individuals affected. Air quality improvement will help combat potential bacterial or virus BRIs, and oftens provides relief for those suffering from the less-defined and nebulous sick building syndrome.
Cleaning services lead to healthier workers: Learn how Cleaning for Health can impact your bottom line.
Jani-King of Cleveland Knows the Importance of Indoor Air Quality
Jani-King has always demonstrated a complete, comprehensive approach to commercial cleaning and disinfection services. We can develop a customized plan for any facility that will keep employees and guests healthy in the workplace.
Cleaning and disinfecting are part of a broad approach to preventing infectious diseases — and occurrences of BRI or SBS — in the workplace. Cleaning is the first step to ensure proper disinfection. For any disinfectant to kill a virus on a surface, the surface must first be clean. Otherwise, the disinfectant cannot adhere to the surface and do its job.
We'll place an emphasis on the cleaning and disinfecting of high-touch points of a facility after consulting with you to identify the critical areas. These include items such as light switches, doors, handrails, elevator buttons, restroom faucets, and more. For effective disinfecting, we rely on appropriate EPA registered chemicals and adherence to manufacturer guidelines including proper dwell times. Jani-King crews also have access to the latest disinfectant application equipment such as electrostatic sprayers.
We're Prepared for the Latest COVID Developments: Learn how Jani-King has developed processes to deal with the Omicron variant.
Partner with the King of Clean
Jani-King of Cleveland has provided needed commercial cleaning and disinfecting services for more than 30 years, and our status as a proven, dependable partner was essential for many organizations in Northeast Ohio over the past two years.
We've been a leader in the ongoing fight to keep businesses open during the pandemic with regular updates on the best practices needed to disinfect your facilities. Vendor partnerships mean every franchise will have access to the latest equipment along with the best cleaning and disinfection agents and the other supplies they'll need.
Connect with us today to address the importance of indoor air quality in your facility or building.
Jani-King of Cleveland offers commercial cleaning, janitorial services, and franchise opportunities in Cleveland, Ohio and the surrounding communities. Contact us today to learn more.